Officer Timothy Soukko reported for duty on February 6 as Dublin's new police officer. He will commute from Fitchburg, Mass., where he lives with his wife, Megan, and their dog (Julep, a Pitbull mix). He has been a police officer since 2006, having worked in several police departments in Massachusetts and New Hampshire. He was fully trained at both states' police academies.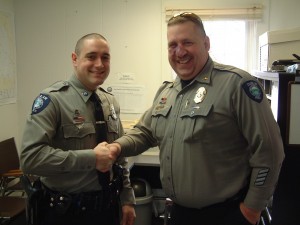 Officer Suokko grew up in Ashby, Mass., and received his BS in criminal justice from Fitchburg State University in 2006.
"I am looking forward to the change," said Officer Suokko, "as I like the community feeling in a small town." Previous positions include Fitchburg State University and Princeton, Mass., and New Ipswich, NH.
Although he says his schedule is not yet set, Officer Suokko will work 4 to 5 days per week.