By Mary Loftis —
Dancing Dog Farm has moved from Peterborough to lower Windmill Hill Road in Dublin – along with a new dancing dog, a handsome one-year-old English Shepherd named Levi. Also in residence are four vocal and pugnacious geese, a flirtatious Marmalade cat, a flock of chickens, a herd of goats supervised by a small bay pony – and yes, farmers Carol Lake and Peter Schmidt and their son, Geordie, a junior at ConVal with a liking for chemistry.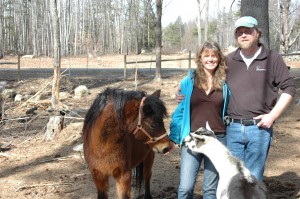 Farmers these days must be versatile and multi-talented, and Carol and Peter fit that profile. They moved their farm to town during that snowy period in late October, and since then have been hard at work improving the property, which Carol describes as a "classic New Hampshire hill farm." They miss the huge old barn at their place in Peterborough and hope in time to build a barn in Dublin "once the land tells (them) where," and have plans for an orchard and a berry patch.
Meanwhile, Carol is busy making cheese – and teaching others how to make it. She got her start at the 300-acre Educational Farm at Joppa Hill in Bedford, teaching both adults and kids, and says that she's been pleasantly surprised by the interest in cheesemaking. Several classes soon to be held at Sunflowers Café in Jaffrey, in which participants learn about making such delicacies as Labneh, Chevre, Fromage Blanc, Mozzarella, Lemon Cheese and Ricotta, are sold out. She said the format of the classes is interactive with lots of "cheesy facts" sprinkled in. Carol has recently spun her cheesemaking endeavors into a separate business, simplecheesemaking.com. Aspiring cheesemakers can sign up online.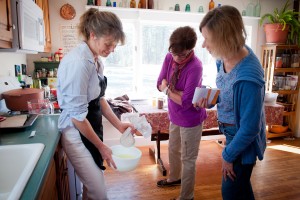 Meanwhile, Peter is busy with his own side of the farming enterprise: his company, Compostwerks, has provided consulting as well as equipment and supplies related to organic land care to businesses and landowners. Now he's looking to work more locally by partnering with landscapers and homeowners. His specialty is an all-vegetable organic, compost "tea" that can be applied to the soil. The mixture is good for all plants as well as trees and shrubs. Peter's side of the Dancing Dog enterprise is monadnockorganics.com.
These two new residents are busy people! In addition to farming and cooking, Carol is a painter and sculptor, whose bronze horse head will soon be installed in front of the Town House in Peterborough. The day I visited, Peter was on his back servicing his truck while four large geese stood guard.
Mary Loftis is on the staff of The Dublin Advocate.